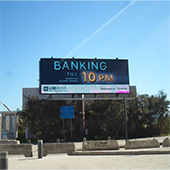 LGB Banking by Night Service
Facilitating its clientele's needs, LGB BANK offers the Banking by Night service
Beirut, March,2015:Following their ongoing efforts to ease customers' lifestyle, LGB BANK re-launched its Banking by Night service at the Allenby Branch in Downtown Beirut. The Banking by Night service which started back in 2010 remains fully operational with opening hours starting from 7 p.m. up until 10 p.m., covering all banking transactions that can be done during the day.
Operating from Monday to Friday and during holidays, both LGB BANK customers and non- customers can withdraw checks, pay taxes, make worldwide transfers as well as several other services, as the Banking by Night service is for everyone who is concerned with time-saving and always looking to simplify their life.
Mr. Samer Itani, Vice Chairman-CEO of LGB BANK, commented, "The Banking by Night service from LGB BANK is offered to optimize customers' time by enabling them to bank at their convenience and eliminate the hassle of the crowded banking process during the day. We understand the essence of time and aim at offering services that are suitable for everyone."
LGB BANK recently opened a new branch in Kaslik, and continues to accelerate its growth with leading services and solutions, including the first UAE Dirham card as a prime example of innovation. LGB BANK also offers differentiated products and high quality banking services such as online banking through the LGB BANK website (www.lgbbank.com), mobile banking, and the exclusive Yacht Concierge Card, which are gaining success amongst select clients who are looking for high end and secure banking.