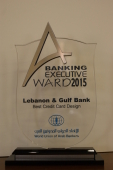 Best Credit Card Design Award
LGB BANK has been named the winner of the prestigious "Best Credit Card Design" award for its Yacht Concierge Black Card by the World Union of Arab Bankers for the year 2014. The ceremony was held at Grand Nile Hotel in Cairo, Egypt on April 27, 2015.
Exclusively introduced in 2014 for the Bank's MasterCard Black cardholders, the Yacht Concierge Card is a unique package for all privileged customers who own a yacht, offering a wide line of services that include Port & Marina Pre-Bookings all over the world, Fuel Delivery, Custom Clearance Assistance, Yacht Shipping & Transportation, Technical Services, Repairs & Dry Docking, Event Planning on Yachts and more.
Mr. Samer Itani, Vice Chairman and CEO at LGB BANK, commented on the occasion, saying, "We are proud to have been granted the "Best Credit Card Design" award. This recognition reflects LGB BANK's distinction across our different products and services, and highlights the commitment we provide our customers," adding that, "On behalf of the LGB BANK team, I would like to thank the World Union of Arab Bankers for this special opportunity which further enhances our determination to pursue greater accomplishments."