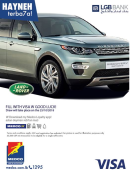 Win Big with LGB BANK Visa Cards with MEDCO and Phoenicia stations!
Hayneh Terba7a!
For every LGB BANK Visa transaction of LBP 45,000 or more across the 205 MEDCO and Phoenicia service stations & convenience stores,
Visa cardholders will be able to enter a raffle draw under the Directorate of National Lottery to win a Land Rover Discovery 2018, at the end of the campaign duration.
The draw will take place on October 25 2018. Each LGB BANK Visa card transaction will be eligible for a single raffle entry.
Cardholders will have to drop their card slip in a designated box at the stations to take part at the draw.
Terms and Conditions:
LGB BANK Visa Card transactions of LBP 45,000 or more are eligible
Each LGB BANK Visa Card transaction will be eligible for a single raffle entr

Cardholders will have to drop their card slip in a designated box at the stations to take part at the draw
Campaign Period from 20 August until 20 October 2018

For customer complaints please contact 1295 or 03-784125