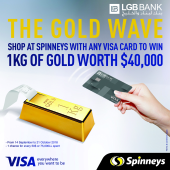 Use your LGB BANK Visa Card and win 1KG of Gold at Spinneys!
All LGB BANK Visa cardholders shopping at any of Spinneys branches will have the chance to win a KG of Gold worth $40,000.
For every single amount of $50 (or LBP 75,000) spent on LGB BANK Visa card (debit and credit), you will enter the draw to win 1 KG of Gold.
This campaign will extend from September the 14th to October the 21st 2018, across all Spinneys branches in Lebanon.