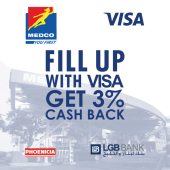 Fill up with LGB Visa Card and get 3% Cashback
At any of 191 Medco Stations across Lebanon to purchase fuel (Mediterranean Oil Shipping & Transport Co.)
Your Cash Back amount will be credited in your Card account by end of the promotion period.
This promotion is valid from 1st August 2016 until 30th October 2016.
Transactions above $100 will not be subject to cash back.


A cap of $50 per cardholder is set for the cash back.
Terms & Conditions apply