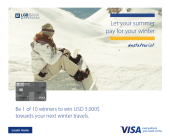 Travel the world like #Notatourist !
Enrich your travel experience, find hidden treasures around the world and broaden your horizons this summer with VISA Cards from LGB BANK!
Every transaction made abroad using anyVisaCard from LGB BANK will give you the chance to be 1 of 10 winners,to win USD 3,000 towards your next winter travels.
This offer is valid until 31st of August, 2017.
For more information, please visit www.visamiddleeast.com/notatourist
Terms & Condition apply