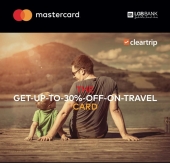 Cleartrip Offer from LGB BANK and MasterCard
Looking to book your next getaway?
Book your next holiday and get up to 30% off on your flights and hotel bookings around the world using any of your LGB BANK Platinum and World Mastercard cards.
From oceanfront luxury in Maldives to a picturesque landscape in Turkey, find the destination that is perfect for you.
For LGB Platinum Mastercard Cards:
For LGB World Mastercard Cards: